EMS and ALS
First Response
Units
Emergency medical services (EMS)
Custom console allows for all radio and controller needs.
Side flip-up command drawer for incident command management.
Custom aluminum drawers available for tool mounting and equipment storage.
Aluminum cabinet construction.
Front grille guards, winches, and bumper-mounted equipment available per custom needs.
Advanced life support (ALS)
Custom console with rhino-coated lid for added durability.
Roof-mounted Coleman Mach heating and cooling unit to maintain proper cabinet temperatures.
Climate controlled cabinets available for storage of sensitive supplies.
Custom-built cabinets allow for maximum storage and space utilization.
Furniture-grade birch cabinet construction with high pressure laminate and aluminum trim for durability..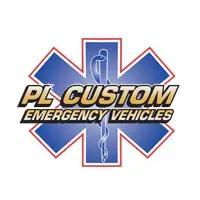 Get our PL Custom Brochure Now!
We will be happy to schedule
a demo at your facility or ours!
Call 800-752-8786
Call 800-752-8786
Trade Show Schedule
Trade Show Schedule