Fire Chief's
Vehicle and Command Unit
Custom padded front console with cup holders, map box, radio charger, siren/light switches and GPS.
Custom powder-coated push bar and winch frame.
Customized cabinet layout keeps equipment readily available.
Aluminum pull-out drawers and trays to accommodate any need.
Auxiliary lighting packages are available for on-scene illumination.
Custom console layouts are designed for each individual customer. Full radio installations with flush console mounting.
Custom cabinets with computer screens and radios.
Rear cabinets designed with radios, map boards, and more to support specialized command vehicle needs.
Fully computerized ICS capabilities at multiple locations.
Interior command center with drop-down map board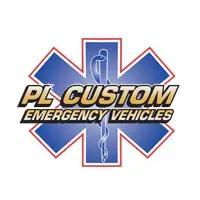 Get our PL Custom Brochure Now!
We will be happy to schedule
a demo at your facility or ours!
Call 800-752-8786
Call 800-752-8786
Trade Show Schedule
Trade Show Schedule