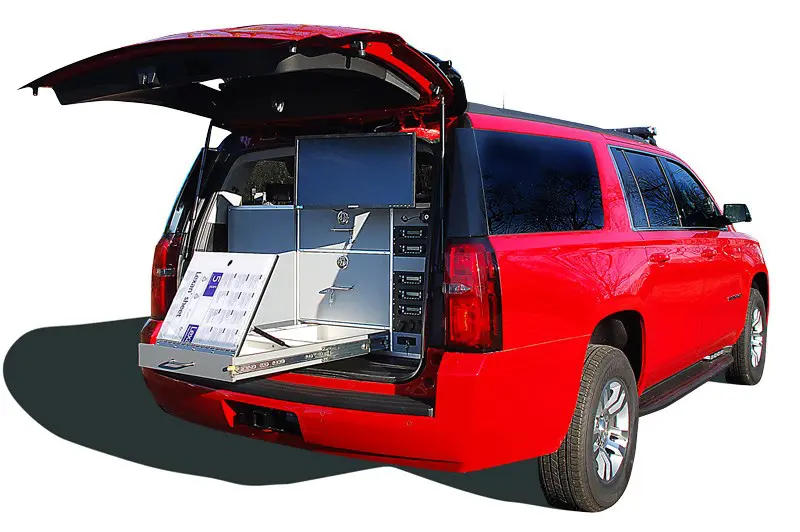 PL Custom Conversions Vehicle provide many options for easy access to time-critical equipment for all varieties of first responder vehicles, including Fire Chief, EMS, ALS, and Command Units.

The years of experience and product knowledge of our staff will provide customized solutions to your unique conversion requirements.
Conversion Vehicles can be customized with many features. View this list for a few samples of what we can do for you.
Front grille guards, winches, and bumper mounted equipment available for custom needs
Fully computerized ICS capabilities at multiple locations
Custom padded consoles with radio, charger, light switches, cup holders, map box and GPS
Consoles can be rhino-coated for added durability
Auxiliary lighting packages available
Interior command center with drop-down map boards
Side flip-up command drawer for incident management
Custom slide-out drawers available for tool mounting and equipment storage
Cabinets can be customized for many specifications
Climate control cabinets available for sensitive supplies
Cabinets built for computer screens and allow for maximum storage and utilization
Furniture-grade cabinets with high pressure laminate and aluminum trim for durability
Aluminum cabinet construction
2022 Deliveries
Chassis Manufacturers
Chevrolet
Conversions
Deliveries
New York
Other Dealers
PL CUSTOM
State
Vehicle
2022 Deliveries
,
Chassis Manufacturers
,
Chevrolet
,
Conversions
,
Deliveries
,
New York
,
Other Dealers
,
PL CUSTOM
,
State
,
Vehicle
2022 Deliveries
,
Chassis Manufacturers
,
Chevrolet
,
Conversions
,
Deliveries
,
New York
,
Other Dealers
,
PL CUSTOM
,
State
,
Vehicle